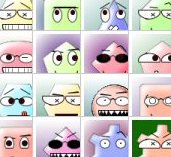 Shamus (of DM of the Rings fame) has made his own avatar generating WordPress plugin called Wavatars. They do look pretty good. I like the gradients he uses and the artwork looks pretty nice (almost as good as say monsters or geometric shapes ;) ).
He has some good ideas with automatically adding the icon to the user's name (I had thought this would mess up the html but now that I think about it should be ok for most blogs) and gravatar support (I suppose they'll be catching on now that they were bought by the WordPress guy) that I think I'll implement in my plugins in the near future.
Hopefully we'll see more automatic avatar generating plugins as they catch on.